application

Name: Kristin
Age: 15
Location: IL
Sex: Female


What would you/did you name your children?
Boy: Kyle
Girl: Kennedy

Top FIVE favourite bands and why you like them:
-Barbra Streisand- she can sing any style of music, and do so much with her voice.

- Judy Garland- classic, she's a really great actress, and has a very pretty voice.
- Mary Martin- she sang one of my favorite songs, Never Neverland, and I heard her sing it when I was really young.
- Michael Jackson- he's got some weird stuff going on, but he's an awesome dancer, and writes great music.
- Christina Aguilera- incredible vocal skills.
What are your greatest fears?
Drowning and being burried alive.
Do you believe in fate? Why or why not?
Sort of. I think think shappen for a reason, but your future is in your hands.
Sadistic? SKIBA.
3+ books and\or authors:

Turn ons: Music.
Offs: Feet.

This question got kidnapped! Make up one &answer it. (Be creative.)
If you could change one thing about your school/work place, what would it be?
My school changes our entire schedule at the semester. We have new lunch periods, new teachers, new classes. I think it's rediculous to make students start from scratch two times in the same year. It's really irritating to think about, and I wish they would let us keep our schedules all year.

Promote this community in your info of your lj or in your journal, and two communities. SHOW PROOF:
1. http://www.livejournal.com/users/rubyslippers_oz/17115.html?mode=reply
2. http://www.livejournal.com/userinfo.bml?user=rubyslippers_oz&mode=full
3. http://www.livejournal.com/community/__innerxbeauty/4968.html?mode=reply
4. http://www.livejournal.com/community/0000000promo/

How did you find this community?: A promo community that I lost the link to.

Say something random or the like: I think the ocean's abyss is really interesting.

3+ CLEAR photos of you: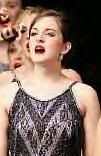 Choir pic.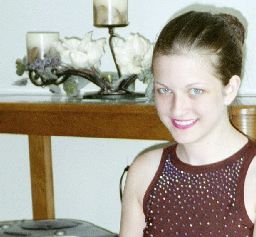 Before a dance recital dress rehearsal.

At a dance recital.
I was upset in this one, but it's the clearest one I have.